Hello from The Caviste,
Today we are presenting some of the German wines in the store.  This coming year, we will be broadening our offering of these wines for their quality, value, deliciousness and our personal likes.  Did you know Germany is where my wine education began?  Like many, I was surprised and thrilled to learn that syrupy sweet wines were nowhere near the standard there.
We look forward to the return of some favorite rosés (Kruger Rumpf, Diel, and more) but that is in the future.  Germany is also home to some fantastic red wines like the Pinot Noir below and some intriguing whites like the one from Enderle & Moll.  Finally, we have one of the great value rieslings in the store and while sweet only like fresh fruit picked at perfect ripeness. A perfect pairing for some green curry or hot bowl of soup.
And, yes, we do like cute labels too . . . .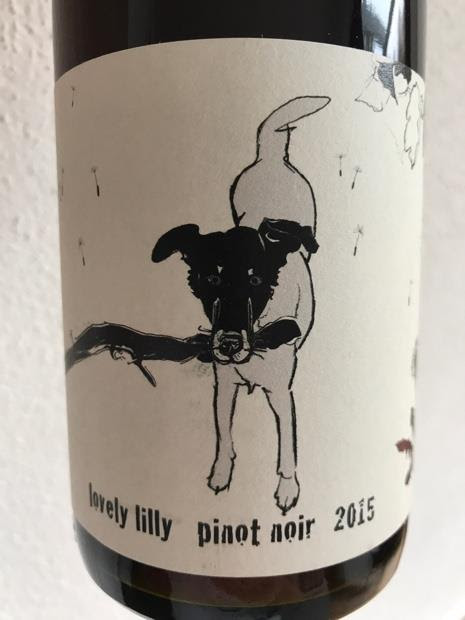 "Lovely Lilly," named after their (previous) vineyard and cellar dog Lilly. Lilly sadly passed in 2014, though the energy remains at the winery with a new young pup who has taken over all jumping, chasing, panting, running and bouncing-around duties. The vineyards of Hans-Bert and Silke at Shelter are north of the Kaiserstuhl. To be fair, they're only about a half-hour north. But a lot changes in those thirty-or-so minutes. First, you have a much cooler microclimate, with the Black Forest cooling down the area. Second, the volcanic soils of the Kaiserstuhl give way to limestone and loess. You can likely see where this is going: Pinot Noirs with lower alcohols and higher acidities.  If you've heard anything about "quality" German Pinot Noir and Baden as a whole, you've likely heard someone say "Kaiserstuhl." This region in Baden – a collection of volcanic hills toward the south – is where the "famous" German Pinots have come from, at least in the last few decades. It's a hot place, and twenty years ago this factor was probably important for ripening. Not so much anymore, let's just say that.  Although the region is trying to redefine itself, for many the "Kaiserstuhl" has become synonymous with over-oaked, unbalanced and high-alcohol Pinot Noir. $21
Enderle & Moll are some of the top new-ish winemakers in Germany today.  I say newish because they have been on the national and international scene for sometime now, but in German terms their estate does not date back centuries as some do.  They make a delicious range of wines that while not mass market refined, a refinement that sometimes leans to boring, have an elegant finesse. Like a very well worn pair of expensive boots, these are a delight.  
What you can say with certainty is Sven Enderle and Florian Moll fly in the face of just about every conventional estate in Baden. It's hard to emphasize how contrarian (and even confrontational) their vineyard and cellar work appears to the powerful coops of the region, to say nothing of the "famous" estates who still seem to pursue efficiency, ripeness, size, alcohol and, yes, new oak, with abandon. Sven and Florian work with very old vines.  They farm all the vineyards organically and biodynamically. Absolutely everything is done by hand in the vineyards (which are quite steep) and in the cellar.
This wine is a 60/40 blend of two "Burgundies" – Weißburgunder and Grauburgunder. To non-Germans, these are known as Pinot Blanc and Pinot Gris. They are fermented on the skins for 3-4 weeks, pressed and moved to a 2500-liter oak cask.  There is just enough skin contact to lend an almost salmon pink hue to the wine and a breath like kiss of tannins.  Both gorgeously frame the abundant aromatics of the wine.

Spices, fruits and flowers, oh my!!  There is an intermingling of red spices like clove and cinnamon, delicious fruits notes of citrus and the subtlety of asian pear along with some white flowers, hints of fresh honey and more.

People have asked about pairing for lentil soups, barley risottos and white fish cooked with cherry tomatoes and fresh herbs, this would be a perfect pairing for each but also enjoyed contemplatively all on its own.  But, beware, it is close to "glou glou" and may be a short contemplation.
Please Note – do not serve this wine too cold, please please don't.  There is too much here and much will be lost in the frigid temperatures of an ice bucket. Also, depending on your palate, you could consider decanting the wine off the remaining lees in the bottle. This will keep the palate crystalline to the last glass.